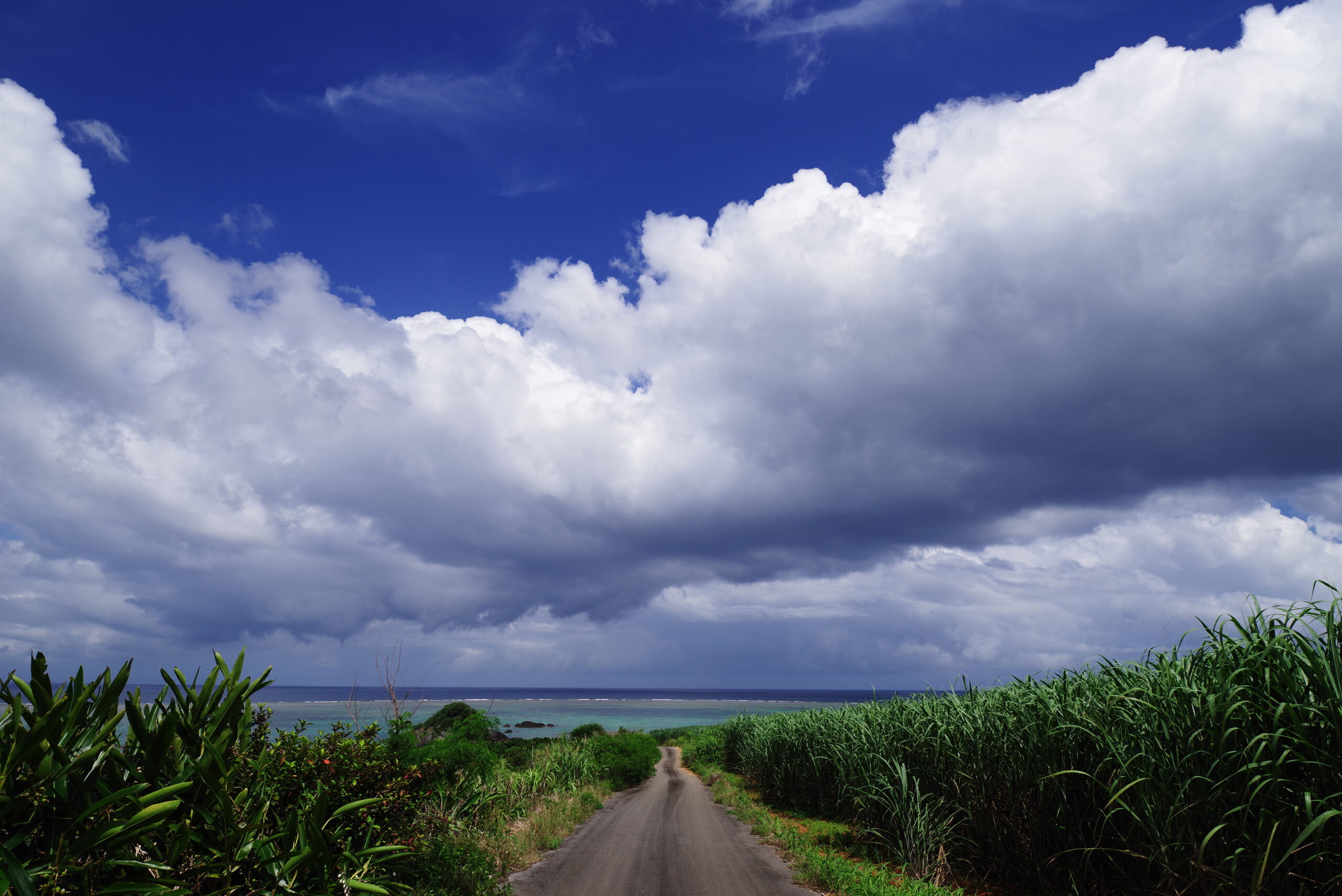 When I discovered that my next assignment was to shoot images for the new KATEN — Summer Sky — Custom Image, I thought that this theme is one that I am very fond of and really is one that I'm best at.
Although the rainy season has begun on Ishigaki Island where I currently live, I can still see the skies that represent this time of year between the rains — a view in which spring clouds and summer clouds intermingle with each other. Unlike urban areas, this remote island in Okinawa has very few tall buildings. Its vast blue sky and boundless blue ocean make me eager to use an ultra-wide-angle lens. That's why I like to keep certain camera-lens combinations handy at all times in Okinawa: the HD PENTAX-D FA 21mm F2.4ED Limited DC WR mounted on the PENTAX K-1 Mark II; and the HD PENTAX-DA 15mm F4ED AL Limited on the PENTAX K-3 Mark III.
This assignment was my first time to use a combination of the D FA 21mm F2.4 Limited and the PENTAX K-1 Mark II. I have used Limited-series lenses, such as the 31mm and 77mm models, on the PENTAX LX and MZ-5 cameras from the days when I shot film. Every one of them looked fashionable and provided a fine texture that optimized the handling comfort. I would love to keep them as part of my collection. Even though the 21mm lens looked slightly larger than past Limited-series lenses, I felt that it provided a perfect balance with the K-1 Mark II, which was also slightly bulkier than PENTAX SLR cameras of the film era.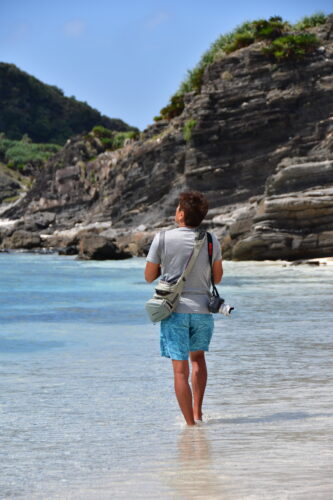 KATEN — the theme of my shooting assignment — is a special Custom Image mode available only when these two lenses are mounted on a K-1, K-1 Mark II or K-3 Mark III camera body. It's a wonderful surprise for those who own these lenses and cameras. For those who don't, it's a special benefit that I think will make them want to purchase compatible equipment.
When I photograph Okinawa's beaches and waters during the day, I normally use a circular polarizing (CPL) filter to more faithfully express the scorching sun, clear blue skies and beautiful ocean. This time, though, I captured all my images without a filter. When I took sample images in the past, there were some occasions when I sought the help of a polarizing filter. However, I held back on this, and worked using only the KATEN Custom Image mode.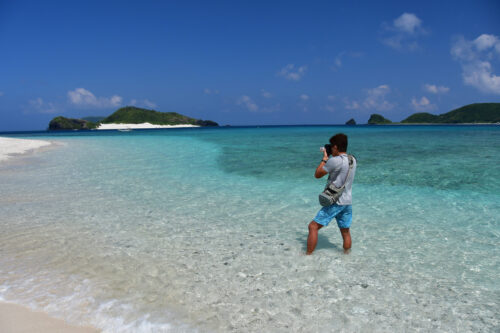 Since the firmware wasn't yet ready at the beginning of the shooting, I captured images using the BRIGHT Custom Image mode instead. I was initially quite satisfied with the excellent resolution and the sense of airiness assured by the Limited-series lenses. When the firmware was completed, I was truly surprised by the resulting images of in-camera data development. They produced colors that were so familiar to me, as if I were using a polarizing filter. They depicted the blue skies and ocean of Okinawa exactly the way I visualized them. I was convinced that I no longer needed a CPL filter.
Of course, filter-free photography optimizes the performance of lenses and improves resolution and clarity. Without a CPL filter, I could also choose a shutter speed two steps faster, making handheld shooting with a bright, large-aperture Limited-series lens much easier and more feasible.
I decided that KATEN was the best Custom Image mode for me to visualize my beloved summer skies exactly the way I wanted. In the past, I was satisfied with the BRIGHT mode. Switching to this new mode, however, let me capture clearer, crispier images, as if a veil had been removed.
While a polarizing filter can produce similar blue skies, it can weaken dazzling reflections on the water. KATEN, on the other hand, retains the glittering reflections while capturing clear, crisp skies. In fact, it produces colors exactly the way I saw them with my own eyes. Since this Custom Image mode is also designed to express morning and evening glows more dramatically, I could effortlessly emphasize the intensity of Okinawa's sunshine.
The combination of KATEN and compatible cameras and lenses provides me with a new option for capturing Okinawa's images in the coming summer. I'm very pleased with, and excited about this new imaging tool.
KATEN Gallery by Kiyotaka Kitajima
Click the image to enlarge to full-screen
KATEN: PENTAX K-1 Mark II with HD PENTAX-D FA 21mm F2.4ED Limited DC WR
In addition to the shooting on Ishigaki Island, I made a trip to Zamami Island in the Kerama Island chain in search of blue waters. After a ferryboat ride, I landed on an uninhibited island where I photographed breaking waves and deserted beaches. I normally use a CPL filter to emphasize the blue colors of the sky and the ocean. With the filter, however, I have to slow the shutter speed down by two steps. This slower shutter speed makes it difficult to freeze the splashing of the waves, unless I raise the ISO sensibility. When I coupled the KATEN mode with the 21mm lens, I could capture the images very close to those captured with a CPL filter, while freezing the motion of the waves in these beachfront scenes.
KATEN: PENTAX K-3 Mark III with HD PENTAX-DA 15mm F4ED AL Limited